Hide Menu
Hide the menu list field on the left.

Change View
There are options to switch between the Desktop-Mobile-Tablet views to the Client screen. Automatically selects according to the input device.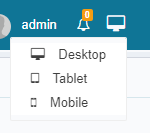 Home
It redirects to the form defined as the landing page for the user.

Tasks
It shows users tasks from BPM and Messages info.

Exit
User log out with this button.