To use the Figures Box on the Xpoda Platform, you can drag-and-drop the Digit Box element from the icon on the toolbox.

The designer view of the form tool is as follows.

Properties of the form tool;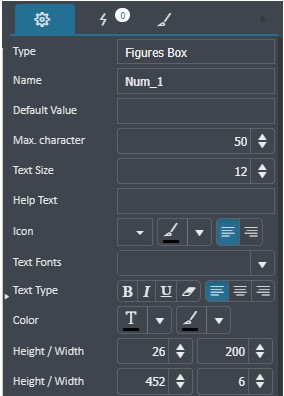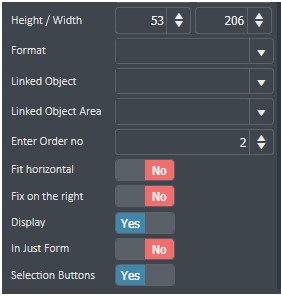 Properties
Name: Name of the tool will be written here.
Default Value: The value entered here comes into the form tool by default.
Max. Karakter: To define the maximum value of this field.
Text Length: Sets the size of the information in the Form tool.
Help Text: It is the text that is entered for comment when the mouse is placed on the Form tool.
Icon: Select the icon, color, and position to be added to the Form tool.
Text Font: Allows you to change the font.
Text Type: Adjust the type of text like bold, italic, underlined and replaces the text as right-aligned, left-aligned, or centered.
Color: Edits the color of inside the form tool and/or the text inside the tool.
Height/Width: Adjusts the height and width of the Form tool.
Left/Top(Height/Width): Adjusts the distance of the Form tool from the left and top.
Format: You can select to format of the field.
Linked Object: Links to an object element created by action. When the object element runs, the information is filled in according to the object area.
Linked Object Area: Selects the fields within the linked object area.
Enter Order No: Specifies the order of the form tool within the form.
Fit Horizontal: Fits the form tool to the full screen on the user's screen.
Fix On The Right: Pins the Form tool to the right.
Display: Makes the Form tool not appear on the screen.
In Just Form: The information entered in the Form tool is not saved to SQL, but only in form.
Up/Down: This is open or close to see up/down icon in the field.
Selection Buttons: Whether or not the buttons on the Form tool appear.
Actions
On clicked: When the button is clicked, runs the actions.
For example, when the button is clicked, document registration is required. To do this, a button must be added to the form. When the button is clicked to save the document, user must choose document register.
The number box is a form tool for entering numeric data. If no changes are made to the format section in the properties section after adding the number box to the form, the nvarchar data type field is created in the database. This allows you to store both decimal and integer data in the number box. However, in the form, only integer numbers can be requested in this field. For this purpose, after giving the field name of the number box, the format is selected as an integer and once the field is created, only the integer is saved in this field. The field type in the database will be integer.
The client view of the form tool is as follows.