It is a form tool used for linking into the form.

Link tool icon at Toolbox

How it looks like on the Canvas
Properties
Properties of the form tool;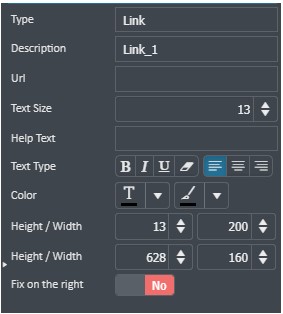 Description: The description is entered into the tool.

Url: The Url of a link is written.

Text Size: Sets the size of the tool.

Help Text: It is a text entered for releasing an explanation when it comes to the mouse on the tool.

Text Type: It arranges type of the text; bold, italic, underline, text location; right align, left-aligned, or centered.

Color: It arranges the interior and/or the text color of the tool.

Height / Width: It arranges the tool's height and width.

From Left / Top: It arranges the distance of the tool from left and top.

Pin Right: It aligns the tool to right.
Actions
When the value changes: Assign an "Action" as on value changes handler. For more information please click here.
Example Used
URL area of the tool has copied a link, which is " https://www.xpoda.com/ ". To edit the text color as white and background color as the purple of the text you can change from Color area. Help Text is written as " Go to the website… ".
When this link is clicked, the related URL is opened in a new tab.

Client view on screen