This flow control comes ready on the flow screen. It is a standard control. This control shows which form document will be included in the flow.

Document control icon at Flow Tools

How it looks like on the Canvas
Remarks
This flow control is not connected to other flow controls. Therefore, an arrow does not appear on the mouse over the control.
Properties
Text: The text that appears on the screen is written here.
Document: The form is selected. Thus, the flow will begin with saving this form, if Auto Start is Yes.
Auto Start: If it is Yes, the flow begins automatically when the document is saved. If it is No, the flow does not begin automatically when the document is saved. In this case, to start the flow, you can create a Start Flow operation with an event on the related form. For example; a button is created and then a when clicked event is created for Start Flow operation.
Example Used
Document control is on the screen to choose the flow document without connection before Start control.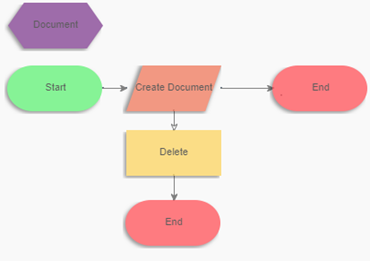 Flow screen
The related form is chosen from Document property. To start the flow when the form is saved, the Auto Start property must be adjusted as Yes.

Document control's properties
This control makes it chooses the flow form. The control is independently in the flow.